Introduction
Correlation nanoscopy group
Optical imaging and spectroscopy are long traditional tools to study the light-matter interaction to probe the physical and chemical structures and properties of the matter.

However the limit of spatial resolution of optical imaging has been a major obstacle in studying newly developed nano materials showing dynamically varying unique properties in the level of individual nano objects.

We have demonstrated the capability of AFM-correlated confocal PL and Raman imaging spectroscopy on inorganic nanowires, nanoparticles, nanofibers and nanoplates.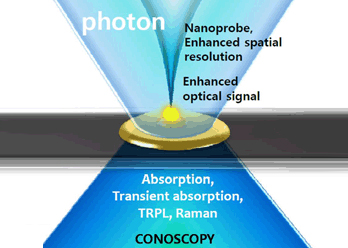 By combining the bests of multi imaging tools providing nanoscale resolution topography and chemical information-containing spectroscopy, the comprehensive and complete analysis and even the fine engineering of optical and electrical properties of newly developed nanos materials will be carried out, in a unique and technically breaking-through manner that has not been accessed by any other research group.

I plan to perform following respective, yet organically-related sub-projects of Correlation Nanoscopy research.

Correlated nano absorption imaging:

Angled and polarized absorption spectra of single nanomaterial [1] will be obtained for direct and quantitative observation of density of states of CNT, graphene layer, organic and inorganic quantum dots and nanowires, all in single nano object level.

For nanomaterial with the dimension much less than the wavelength of the visible light, the spectral separation of scattering and absorption is the key aspect to obtain absorption spectra of single nano object.

This challenging task will be accomplished by the AFM-correlated nano optical imaging, high-speed synchronized spectral acquisition and fine spectral separation.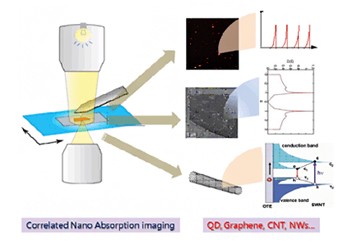 Nanoscale manipulation with simultaneous nano spectroscopic imaging:

Physical and bio-manipulation on single nano objects such as mechanical modification, electron or ion injection and application of pico-litter level fluid application will be carried out while performing in-situ muti-spectroscopic imaging.

Post and pre process in modifying nano materials gives only limited views, so called "before" and "after" state.
Our in-situ manipulation and modification with simultaneous spectroscopic imaging will give full time continuous pictorial views from beginning to end during the interaction between the nano object and intended modification.

We already showed the capability of in-situ nano-probe mechanical modification [2] and DNA hybridization of organic nanowires [3] and also studied the modified optical properties of e-beam injected polymer nanowires [4].

Based on these technical knowhow and with the new development of the devoted and upgraded system, I plan to study fundamental nano materials including CNTs, graphene and their chemical and physical composites that will show even more dramatic behavior with in-situ modification that will lead to unknown insights of these materials.
Multi-spectroscopic bio-nanoscopy:

Fibrin fiber, which forms the blood clot, is the major object for understanding of the blood aggregation disease in the artillery.

Researches have shown that conformation of protein consisting of fibrin fibers plays a crucial role in abnormal blood clogging, the origin of heart attack.

Therefore understanding of conformational structures of abnormal fibrin fiber will lead to possible cure of many heart diseases.

The mechanical properties of fibrin fiber was proven to be very different when measured in isolated single fibrin fiber [5], due to the crosslinking and networking between fibrin fibers in blood clot.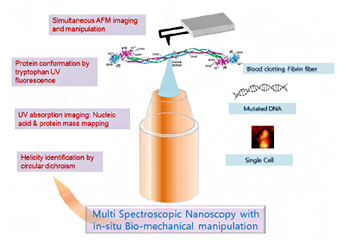 However study on optical properties of fibrin fiber in a single strand level has been very limited [6].

I expect that circular dichroism imaging and UV tryptophan fluorescence imaging will identify the helicity evolution and protein conformation change of fibrin fiber and other bio elements.

Multi- spectroscopic nanoscopy can be used to study the mutated DNA or other bio element in single element level to diagnosis and investigate how the conformational behavior of DNA and malignant cells induces biological mutation or genetic cancer.

Researchers have dreamed of looking at fibrin fibers, DNA or cell in a single object level by various spectroscopic imaging.

Our muti-spectroscopic Nanoscopy can provide complete analysis of bio elements in a unique manner that has not been demonstrated so far in scientific researches.

These projects are to be conducted comprehensively together that will stimulate other projects.

The scale of resources required for these projects are expected to be rather high, however the scientific accomplishment from this interdisciplinary research between material science, nano optics and bio-technology will be highly rewarding.
References

[1] "Anisotropic optical absorption of organic rubrene single nanoplates and thin films studied by μ-mapping absorption spectroscopy", H. Lee, K. Dhakal, J. W. Lee, J.S. Jung, J. Joo and J. Kim, Appl. Phys. Lett..101, 113103 (2012)

[2] "Light-Emitting Color Barcode Nanowires Using Polymers: Nanoscale Optical Characteristics," D.H. Park, Y. K. Hong, E. H. Cho, M. S Kim, D.-C. Kim, J. Bang, J. Kim, and J. Joo, ACS Nano, 4, p5155–5162 (2010)

[3] "DNA detection using a light-emitting polymer single nanowire", D.H. Park, N. Kim, C. Cui, Y.K. Hong, M.S. Kim, D.H. Yang, H. Lee, D.C. Kim, J. Kim, D.J. Ahn and J. Joo, Chem. Comm. 47 p8175-8176 (2011)

[4] "Fine characteristics tailoring of organic and inorganic nanowires using focused electron-beam irradiation," Y. K. Hong, D. H. Park, S. G. Jo, M. H. Koo, D,-C. Kim, J. Kim, J.S. Kim, S.-Y. Jang, and J. Joo, Angew. Chem. Int. Ed. 50 p3734-3738 (2011)

[5] "Fibrin Fibers have Extraordinary Extensibility and Elasticity" Liu, W., Jawerth, L. M., Sparks, E. A., Falvo, M. R., Hantgan, R. R., Superfine, R., Lord, S. T., Guthold, M., (2006) Science 313, 634

[6] "Denaturing of Single Electrospun Fibrinogen Fibers Studied by Deep Ultraviolet Fluorescence Microscopy," J. Kim, H.G. Song, C. R. Carlisle, K. Bonin, I. Park and M. Guthold, Micro. Res. Tech. 74 p219-224 (2011)
Profile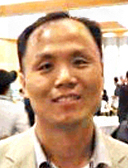 Professor
Kim, Jeongyong
Educational Background
Ph.D. Nano optics, University of Cincinnati
Professional Experiences
Professional Experiences

| | |
| --- | --- |
| 2013 ~ pres | Professor, Dept. of Energy Science, Sungkyunkwan University |
| 2008 ~ 2009 | Visiting Scholar, Wake Forest University |
| 2002 ~ 2013 | Professor, Dept. of Physics, Univ. of Incheon |
| 2000 ~ 2002 | Senior Researcher, ETRI |
| 1998 ~ 2000 | Post Doctoral Researcher, University of Illinois at Urbana-Champaign |
Research Field
Nano Optics (Near field Optics, Plasmonics, Nano Confocal Spectroscopy)
Inorganic/Organic Nano materials
Time-resolved Spectroscopy
Research Teams
Prof. Moonseok Jeong
Dr. Minsu Kim
Dr. Jihee Kim