Introduction
Photo-thermoelectricity group
To control electrons and phonons simultaneously in solids is the most challenging problem in condensed matter physics.
Unlike electrons, the carriers of heat, that is, phonons are collective vibrations of atoms in lattice.

The thermoelectric effect involves fundamental energy transport phenomenon such as electrical conductance and phonon heat transport.
The effectiveness of a thermoelectric material is determined by the dimensionless thermoelectric figure of merit, ZT=S2σ T / k where S,σ, T, and k are the Seebeck coefficient, electrical conductivity, temperature, and thermal conductivity, respectively.

Most well-known thermoelectric material is Be2Te3 whose figure of merit is about 1.
To improve the figure of merit, the best strategy is to increase carrier motion most effectively from hot to cold region and to minimize phonon heat transfer by carriers. Research trends to improve figure of merit have been focused on reducing heat conduction.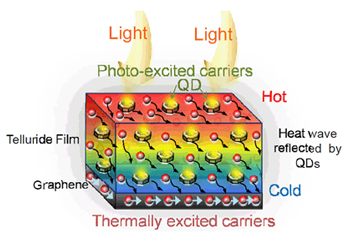 Heat conduction was then reduced by making thin film superlattices or nanowires, which reduce phonon heat conduction in low dimensional structure.

Another way to reduce heat conduction is to make phonon-glass and electron-crystal structure called Skutterudite structure, which reduces phonon heat conduction and increases electron conduction.

In this group, we will develop a new system with heterostructures by combining a phonon crystal which creates thermal carriers with an electron highway which carries thermally generated carriers separately.

One good example of this system is Sb2Te3 thin film on graphene film, because Sb2Te3 is a good thermoelectric material to generate thermal carriers which will be collected by the highly conductive graphene film.

We expect that this heterostructure between binary telluride alloy and graphene can achieve figure of merit above 4.

Furthermore, a multi-functional system will be designed by incorporating thermoelectric and photoelectric effect simultaneously.
This could be implemented in a single material which both phenomena or designed with hybrid nanostructures to incorporate both effects.
Research Teams
Prof. Kim, Sungwng
Prof. Baik, Seunghyun
Dr. Jaeyoul Hwang
Dr. Suyeon Cho